Programme on Women's Economic, Social and Cultural Rights (PWESCR) is an international initiative in the area of gender and economic, social and cultural rights. PWESCR works to promote women's human rights, especially in the context of economic, social and cultural rights by bringing a gender framework to policy, law and practice at local, national, regional and international levels through ever-evolving strategies and activities in both conceptual and practical realms. PWESCR, in its initial phase will have a South Asia regional focus. However, as we get support from other regions, we plan to expand this initiative globally.
What is PWESCR?
PWESCR is an international advocacy and educational initiative in the area of women and their economic, social and cultural rights (ESCR). From its base in India, PWESCR, works to promote the human rights of women, addressing women's poverty, health standards, and right to food, education, water and work. We do that by bringing a gender perspective to policy, law and practice at the local, national, regional and international levels.

PWESCR is currently particularly focused on South Asia. It is estimated that women form 70% of the world's poor and two third of the world's illiterates while they own only 1% of the world's wealth. Women often work longer hours than men, but substantial part of their work remains unrecognized under-valued, and unappreciated. And the possibility of violence permeates their lives from birth to death. Women's poverty is our focus and we seek to explore how international human rights framework can be used to address these issues.

PWESCR was started in 2005 out of a critical need to develop international human rights organizations in the Global South that are able to network, share expertise, strengthen human resources, and create tools to raise awareness around women's ESCR. Our leadership development programme is aimed at addressing these needs from the local to the global.

One in every two women in South Asia faces violence in their daily life (Unifem, 2007). There are 50 million fewer women in South Asia than what a balanced demography demands. PWESCR's work gives special attention to implementation and 3monitoring of women's rights in South Asia by working with UN Treaty Bodies.

PWESCR seeks partnerships with other networks and continues to strengthen its relationships with key organizations working on an agenda similar to ours in Africa, Latin America, Asia, Europe and North America.

What Does PWESCR Do?
PWESCR carries out its work for ESCR on a number of fronts. We conduct action-oriented research to provide deeper analysis of women's economic, social and cultural issues and to facilitate new strategies for defending human rights.

PWESCR's programme facilitates collaboration between various networks and organizations to work at all levels for the
actualization of women's human rights. We are actively engaged in pushing for social security as a right for workers in the unorganized sector. The Social Security Now campaign is aimed at highlighting the survival needs of the poor, particularly women and the marginalized. While leading the campaign in two states of India, PWESCR has also trained others in monitoring skills.

We engage in advocacy, working to strengthen standards and full implementation of government's commitments within the international human rights framework. In order to monitor women's economic, social and cultural rights in India, PWESCR has initiated a collective action process. The short term goal for this peoples' collective is to develop a shadow report to India's Government report for the UN Committee on ESCR. India is scheduled to report in May 2008.

PWESCR also provides technical assistance and imparts human rights education to individuals and to women's groups on monitoring and self-representation skills through leadership development programs. Towards this objective PWESCR also organizes its leadership development school each year. Grassroots women leaders from South Asia benefit from the trainings by acquiring knowledge and new leadership skills. These women leaders in turn train others.

PWESCR provides human rights education and training to enable participation of other social organizations in the monitoring of human rights bodies such as the Council for ESCR and CEDAW among others.


To establish links and foster collaborations in order to enhance learning, as well as develop shared strategies to advocate problem- solving alternatives at all levels in the context of gender.

To build leadership and capacity of groups, organizations, activities and other actors in the field of human rights and economic justice to promote women's ESCR

All human rights are universal, indivisible, and interdependent. Civil and political rights are mutually interdependent on
economic, social and cultural rights.

Women's economic and social empowerments are fundamental to full realization of women's human rights.
Gender analysis is crucial to advance all ESCR.

Human rights mechanisms are on organizing, mobilizing and empowering tool in addition to an international legal framework.

An intersectional analysis ensures that women from marginalized communities are not left behind.

We take this opportunity to invite you and your organization to join us in this endeavour — to develop shared vision and to strengthen partnerships to advance women's human rights. Your input based on your experiences working in this area would be critical as we start conceptualising on women and ESCR priorities.
Do you work on women's economic, social and cultural rights? What are the areas of your focus?

What has your experiences been both in terms of successes and challenges promoting women's ESCR?

What priorities would you suggest PWESCR to consider?

What advice can you give us as we develop this new programme?

Would you like to receive information about PWESCR's future activities?

Would you like to join our list serve?

Who we are: Board, International Board and Staff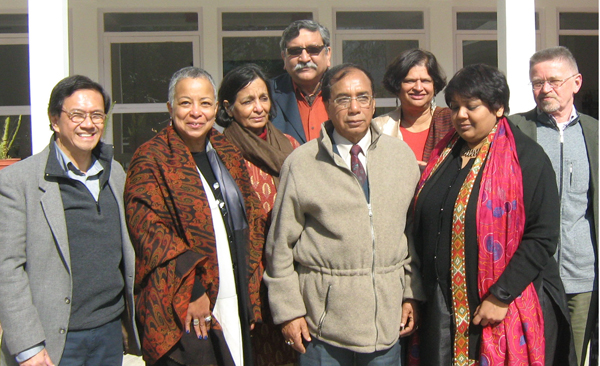 Gagan Sethi
Chair Person

Gagan Sethi is the founder of Janvikas. Mr. Sethi served as managing trustee from 1987 to 1997, and is now the chair. Janvikas has been an incubator of several civil society initiatives like Kutch MahilaVikasSangathan, Dalit Foundation ,Drishti and a host of others.

Mr. Sethi provides training, organisational development, project planning and evaluation support toward institution building to NGOs, government programs and funding agencies in Sri Lanka, Bangladesh and India. He is known for his work developing leadership among excluded communities. He has designed and conducted over 400 training and development programs in the fields of rural and urban development on issues such as social forestry co-operatives, ecology-related grassroots programs, organization of schedule castes and tribes, legal awareness, lobbying and advocacy work, and youth and women. Mr. Sethi serves as a consultant for a number of notable clients, including on curriculum development and a long term training program in gender for the Swiss Agency for Development and Co-operation and on a 'diploma in human rights' project for the Centre for Social Justice. He is the author of Developing Capacities in Governance for Nonprofits.

B.B. Dutta
Governing Board Member

B.B. Dutta retired as head of the Department of Economics of St.Anthony's College at North Eastern Hill University, Shillong.. He was a member of State Planning Boards of Meghalaya and of Assam during the 1980s and 1990s. Dr. Dutta also served as a member of Parliament (RajyaSabha, Upper House) as a Presidential Nominee from 1993 to 1999. He was on the Standing Committees of Defense, Human Resource Development and Rural Development, and also a member of the Consultative Committee of External Affairs.

Dr. Dutta is a founding member of the North East India Council for Social Science Research; founder, member and president of the Women's College – Shillong and of the Shillong Academy High School; and founder, chairman and managing trustee of Sri Aurobindo Institute of Indian Culture, Shillong. He has published many articles, edited books on economics, social science and political science and holds an MA and a PhD in economics.

Uma Ramaswamy
Governing Board Member

Uma Ramaswamy is a sociologistand development professional with over twenty years of experience. Dr.Ramaswamy has taught at Miranda House, University of Delhi and Central University of Hyderabad. She has been a senior advisor to the women's project of German foundation Friedrich Ebert Stifttung, as well as a number of other institutions and funding organisations in the fields of women and gender, conducting project reviews and evaluations, impact studies and documentation and organisational and institutional development. Dr.Ramaswamy's research work has been published by Oxford University Press and in many other renowned journals. She has a PhD from the Delhi School of Economics at the University of Delhi.


Manuel F. Montes
Chair person

Manuel Montes is the Senior Advisor Finance and Development at South Center. He recently retired from being the Chief of Development Strategy and Policy Analysis for the United Nations Development of Economic and Social Affairs (UNDESA). Dr. Montes was previously chief of policy analysis and development in the UN Financing for Development Office. He also served as regional programme coordinator, Asia Pacific Trade and Investment Initiative, for the UNDP Regional Centre in Colombo, Sri Lanka. He has been a visiting scholar at the Institute for Development Economies in Tokyo, the United Nations University/World Institute for Development Economics Research in Helsinki, and the Institute for Southeast Asian Studies. Dr. Montes holds a PhD in Economics from Stanford University. His research has focused on economic development, with an emphasis on the roles of macroeconomic policies and social inequality.

Maria Virginia Bras Gomes
Governing Board Member
Born in Goa, India, Maria Virginia Bras Gomes is a senior social policy advisor in the Ministry of Labour and Social Solidarity of Portugal. Her most recent major European assignment was to co-ordinate the negotiation of resolutions for the clusters on globalization and interdependence, and poverty eradication, at the 2nd Committee of the UN General Assembly, on behalf of the EU, during the semester of the Portuguese Presidency (June/Dec 2007).

From 2003 to 2010, Ms. Bras Gomes was a member—and from 2008 to 2010 served as vice-chair—of the UN Committee on Economic, Social and Cultural Rights. She is a member of the Board of Trustees of the European Roma Rights Centre Foundation (Hungary); the European Social Network high level advisory group on de-institutionalisation; the Board of the Portuguese UNICEF Committee; and the National Human Rights Commission.

In 2008, she was a faculty member of the Nottingham University Human Rights Law Centre Summer School, in 2009, of the UNDP Global Human Rights Community of Practice Meeting; and in 2011, of the Leadership Institute in Women's Economic, Social and Cultural Rights.

Her recent articles include The Future of Economic, Social and Cultural Rights; and Individualisation and the Crumbling of the Welfare State, published by Palgrave Macmillan; Human Rights and Development: the two sides of the same coin, published by Iboorberg Verlag GmbH & Co, KG; andMulticultural Europe: combating racism and intolerance, published by the French National Consultative Commission for Human Rights.

In addition to serving as a member of PWESCR's international board, she is a faculty of PWESCR's Leadership Institute.

Ton Waarts
Treasurer

Ton Waarts is the co-founder and chairperson of Dignity International, an international network prioritising the economic, social and cultural rights of struggling communities, based on the UN Declaration of Human Rights. Mr. Waarts formerly was the executive director of the Netherlands National Committee for Sustainable Development and International Cooperation, one the largest NGOs in the Netherlands. He has been a lecturer-research fellow at the Center for Development Planning of the Netherlands School of Economics, and has participated in a number of international development projects. For his contribution to Dutch society, he has awarded knighthood by the Queen of Netherlands in 2003.

Barbara Y. Phillips
Governing Board Member

Barbara Y. Phillips serves as a consultant to organizations committed to effectiveness and innovation in advancing social justice. Ms. Phillips was formerly a program officer at the Ford Foundation in the Peace and Social Justice Program's Human Rights Unit, where she was responsible for conceptualizing and managing a national and international portfolio of grants and other activities related to women's rights and gender equity. Previously, she was an associate professor of law at the University of Mississippi School of Law, a partner in the San Francisco law firm Rosen & Phillips, a staff attorney with the Lawyers' Committee for Civil Rights Under Law, and special assistant attorney general in the Office of the Minnesota Attorney General. Upon appointment by the federal district court in 1987, she spent seven years monitoringthe San Francisco Fire Department's compliance in resolving claims of race and sex discrimination in hiring, promotions and conditions of employment.
Her publications include Dignity and Human Rights: The Missing Dialogue (PWESCR, New Delhi, December 2011); Thoughts on Dignity, Discussion Paper (PWESCR, New Delhi, May 2007); "The Road Traveled, The Road Ahead: Ford Foundation Support for Women's Rights"in Women, Philanthropy and Social Change: Journey To a Just Society, ed. Elayne Clift (UPNE Press, 2005). Her articles include"The Gift of Hopwood: Diversity and the Fife and Drum March Back to the 19th Century," Georgia Law Review(Fall 1999); "Thoughts on the Emerging Separate but Equal Doctrine" in Controversies in Civil Rights, (University of Virginia Press, 1999); "XinRen, Tradition of the Law and the Law of the Tradition: Law, State and Social Control in China,"China Review International (Fall 1998); "Reconsidering Reynolds v. Sims: The Relevance of Its Basic Standard of Equality to Other Vote Dilution Claims,"Howard Law Journal(Summer 1995); "How to Use Section 5 of the Voting Rights Act," Joint Center for Political Studies, Washington, DC(3rd edition, 1983); "Proposed Changes in Presentence Report Procedure,"(1975); "Mississippi Property Tax: Special Burden for the Poor," Black Economic Research Center (1973); "A Report on the Land Saving Project of the Mound Bayou Development Corporation"in Only Six Million Acres: The Decline of Black Owned Land in the Rural South (1973).
Ms. Phillips has a BA from Macalester College, a JD from Northwestern University School of Law, and a JSM from Stanford Law School, all in the U.S.

Priti Darooka
Founder, Managing Trustee, Executive Director

PriitiDarooka is the founder and executive director of PWESCR and brings a wealth of experience in the human rights and social justice fields to our work. Prior to establishing PWESCR, Ms. Darooka promoted women's and economic empowerment at the Ford Foundation in New York. She was previously at UNIFEM, where she worked on violence against women indicators and assessment and on coordinating UNIFEM's work in Afghanistan. As a consultant to the Center for Women's Global Leadership, she organized a women's rights hearing at the UN Conference against Racism in Durban, South Africa. Ms. Darooka was also National Campaign Coordinator with UNITE for its Global Justice for Garment Workers Campaign. She has also worked with Manavi, a South Asian women's organization, and at the Urban Justice Center in New York. She has been involved in the Stop FTAA (Free Trade Area of Americas) campaign. She has a Master's in Women's Studies from Rutgers University in the U.S.



Priiti Darooka, Executive Director

Priiti Darooka is the Founder and Executive Director of the new international Programme on Women's Economic, Social and Cultural Rights (PWESCR). She was previously at the Ford Foundation, in New York Human Rights unit, and has focused to promote women and ESCR. Prior to the Ford Foundation, she was at UNIFEM where she worked on violence against women indicators, assessing and coordinating UNIFEM's work in Afghanistan. As a consultant to the Center for Women's Global Leadership, she organized a women's human rights hearing at the UN Conference against racism in Durban, South Africa. She was the National Campaign Coordinator with UNITE for their Global Justice for Garment Workers Campaign.

Priiti has also worked with Manavi, a South Asian women's organization working with women and children who faced violence in their lives. At Urban Justice Center (UJC), she worked with the NYC Welfare Reform & Human Rights Documentation Project, where she developed policy brief on welfare reform and women, which were used as a media and advocacy tool by welfare advocates of New York City to expose human rights violations. She was also involved in the Stop FTAA (Free Trade Area of Americas) campaign and focused on different aspects of trade, and women's lives, from a feminist and human rights perspective
Sanjay Dhadwal, Office Manager

Sanjay holds a Bachelor of Arts degree in Economics. He is an administration and finance professional with 17 years of experience in the field. A great believer in the NGO sector, he was the National Director (Admin) with the Human Rights Law Network (HRLN) for seven years. With tremendous interpersonal and administrative skills, Sanjay has organized and implemented several staff benefit schemes. He has also initiated and activated systems and procedures in accounting, finance, and administration.
Manjeet Singh, Finance & Accounts Officer

Manjeet received the B.Com Degree from Delhi University of Delhi in the year 1980.He has over 30 years of work experience in Finance, Account and Administration with Corporate Houses.He has the expertise in the area of management, supervision, financial and human resource planning and budgeting and monitoring of project reports. He is also experience of Travel Agency and worked for the project of HHEC, CSIR, NPL, ICMR, Hindustan Lever Ltd. Manjeet has the capacity to establish and implement effective systems for financial reports.
Amit Ahuja, Administrative & Communication Officer

A motivated, young and enterprising person with extensive knowledge of the working of the NGO Sector, Amit started his career by assisting Dr. Sanjai Bhatt, Professor, Delhi School of Social Work, Delhi University. He joined PWESCR as Administrative Officer in September 2005 and has helped in setting up the administrative systems of the organization. An IT savvy person, he has a Masters in Business Administration with specialisation in finance from M.D. University.He also has a Diploma in Office Management with significant expertise in computers, business correspondence and office management.
He has wide ranging experience in office administration, vendor management, office management, event management, computers hardware, software and networking
Kripa Basnyat, Pogramme Associate

Kripa Basnyat completed her Master's in Politics with a specialization in International Relations at Jawaharlal Nehru University (JNU) and B.Com (Hons) at Shri Ram College of Commerce (SRCC). She has worked as a Programme Officer in a NGO called Himalayan Human Rights Monitors (HimRights), Nepal where she was responsible for the overall coordination and implementation of the Women, Peace building and Reconciliation programme. She is currently working as a Programme Associate- South Asia in PWESCR, Delhi. Her main role is to build leadership and capacity of South Asian groups, organizations, activists and other actors in the field of human rights and economic justice to promote women's Economic, Social and Cultural Rights. She advances, implements and monitors PWESCR's programme in South Asia to establish links and foster collaborations.
Sunil Kumar Kohli, Office Assistant

Sunil is currently pursuing his Bachelor's degree in Commerce from IGNOU. He has a wide-ranging knowledge of software and technology, which makes him a valuable asset to the office. Sunil is a motivated and enthusiastic worker with a will-do attitude. A quick learner with the ability to grasp new technology, he is an energetic team player with the capacity to work under a hectic schedule.

Home | About Us | Resources | Donation | Contact Us | Site map
Copyright 2008, All Rights Reserved. PWESCR.